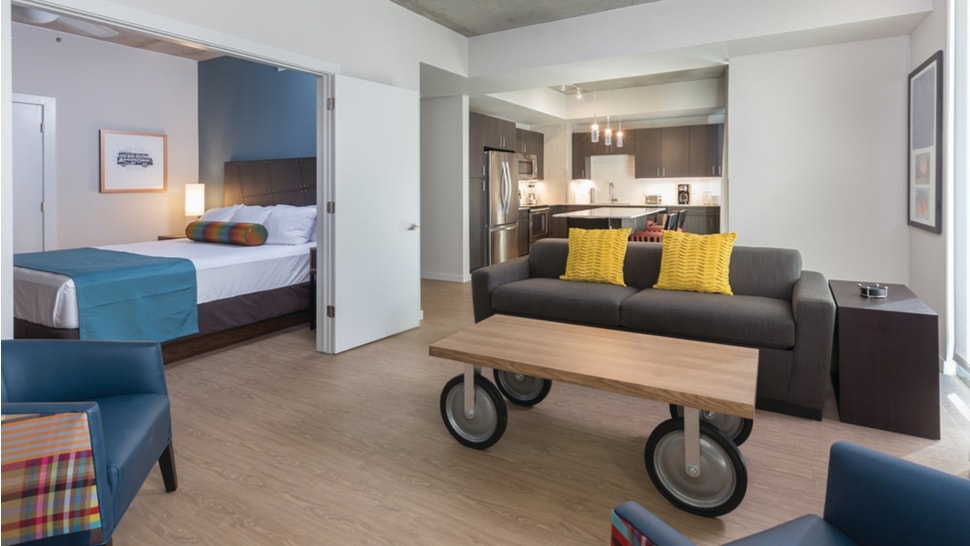 When planning a vacation, choosing the right accommodations is just as important as picking a worthwhile destination. If traveling as a family or a group, finding somewhere with enough room, within budget, that all will agree on can be challenging. Typically people will look for deals on hotels or search Airbnb for the perfect home rental, but they might be overlooking an even better option – timeshare resorts.
Why has timeshare rental been overlooked?
People might not be aware that they have the option to rent at a timeshare resort because they assume the amenities are reserved exclusively for owners. This is usually true except in instances when owners can't use all their timeshare. Even when rooms do become available, timeshares can also be easy to miss on booking sites due to limited availability and requirements such as a 2-3 night minimum stay.

One misconception is that guests will have to attend a timeshare presentation. While resorts do offer presentations for those interested in learning more about vacation ownership, they are not required to attend. In reality, renters get the luxury of staying in an exclusive resort and enjoying the same amenities without the commitment of owning.

Of course, if they are interested owning a timeshare, renting is a great way to try ownership out.
What are the major differences between a timeshare resort and hotel or home rentals?
There are many differences, but timeshare resorts typically offer a well balanced combination of resort convenience and residential comfort. They have all the amenities and luxury of high end resorts along with the perks of a private residence. Most timeshare resorts are 3-5 stars in quality with on-site restaurants, bars, stores and activity centers while the units offer fully equipped living quarters with separate bedrooms, full kitchens and living or dining rooms. Essentially allowing guests to rent fully equipped private condos in the most in-demand vacation destinations in the world.
What makes timeshare rental a great value?
Staying at a timeshare resort can save travelers money on food, activities and lodging. Many units include multiple bedrooms, full kitchens, separate dining and living rooms, washer/dryer, and a pull-out couch. Generally, a timeshare unit can sleep a group of six or more, compared to a standard hotel room which can sleep up to four. Having multiple bedrooms allows travelers to comfortably house their group in the same unit, ultimately saving money on total lodging cost.
How does a timeshare rental stack up to a hotel or home-rental?
Below we've prepared a side-by-side comparison that looks at the major differences between features of a timeshare, a hotel and a home rental…
---
Resort Amenities
Timeshare
Multiple pools, hot tubs, lazy rivers, spa services, gyms, activity centers, movie nights, miniature golf and much more.
Hotel
Pool, hot tub, gym and business center. Other amenities vary widely.
House
Sometimes has pool and hot tub depending on home.
---
Room Amenities
Timeshare
Multiple bedrooms, separate living/dining rooms, kitchens, washer & dryers, small appliances, tableware, wi-fi, extra linens and smart-TVs.
Hotel
Coffee pot, microwave, mini-fridge, wi-fi and ironing board.
House
Depends heavily on whether the entire home is rented or just a room, and then on what the home owner provides.
---
Guest Services
Timeshare
24 hour front desk, concierge team, cleaning staff (before and after your stay), activity center and/or game room staff, lifeguards and valets.
Hotel
24 hour front desk and housekeeping staff. Might have concierge desk as well.
House
Homeowner usually greets you on check-in and out. May not be available during your stay.
---
Kid Friendly
Timeshare
Most resorts offer activity centers, game rooms, organized activities, playgrounds and self-navigated games like cornhole or mini-golf.
Hotel
Pools and arcades are the most common kid-centric amenities at many hotels.
House
May have a pool, playground set or video game systems.
---
Occupancy
Timeshare
Depending on room type, units can sleep 2-10 guests. Most units have sleeper sofas and bedding can range from double to king sized mattresses.
Hotel
Most hotel rooms can sleep 2-4 guests, requiring you to purchase multiple rooms or charging you for more occupants.
House
The bedding can range significantly based on the size of the space you rented. Often times homeowners will charge per guest.
---
Quality
Timeshare
Most timeshare resorts are 3-5 stars in quality and offer on-site restaurants, bars, convenience stores and unlimited linens or toiletries on demand.
Hotel
Quality can range from 1-5 stars and many hotels don't have on-site food & beverage, only vending machines.
House
There is no governing rating system for vacation rental homes and you have to go offsite for food & beverages or shopping.
---
Conclusion
Whether an owner is looking to make money back on their timeshare, or a guest wants a luxury vacation for less, renting a timeshare makes a lot of sense for all parties involved. Regardless if you're an owner or guest, reach out to our team to learn more about timeshare rental.